Posted on 03/03/2020
Launch of Walk Hull Web App
Umber Creative are delighted to launch Walk Hull - West Park, a new community walking initiative developed by Umber Creative on behalf of Hull City Council, Hull Culture & Leisure and Fitmums & Friends.
Walk Hull - West Park is a community walking initiative designed to encourage people to walk in Hull's West Park. It combines signs in the park with simple QR Code scanning to tell users how far they and the rest of the community have managed to walk. When Fitmums & Friends suggested the idea of a walking initiative we jumped at the chance to be involved by building a mobile optimised website where people can track their walk around the park and creating the signs you can find in the park right now!
Whether people want a gentle stroll or an active power walk, they can use their smartphones to track the distance they cover by scanning the Walk Hull QR codes located on the seven signs placed around the park. When they finish, the Walk Hull website will tell them how far they have walked that day, as well as the combined efforts of everyone that has participated in the Walk Hull scheme so far by checking the park activity page where the total distance is displayed along with the number of users.
Walk Hull - West Park was launched in February when Fitmums & Friends Chief Officer, Sam Barlow BEM was joined by members of the SocialEYES walking group to take the first Walk Hull walk and already multiple users have engaged with the Web Application! Umber Creative were proud to attend and see the system they had built put to good use by the community.
The website is really easy to use and, as well as showing people how far they have walked on any one occasion, it also lets people know how far the whole community that has used the scheme at West Park has travelled. We hope this feature will encourage people who live around West Park to come out and enjoy all of the benefits of a lovely walk in the park.
Sam Barlow BEM
,
Fitmums & Friends Chief Officer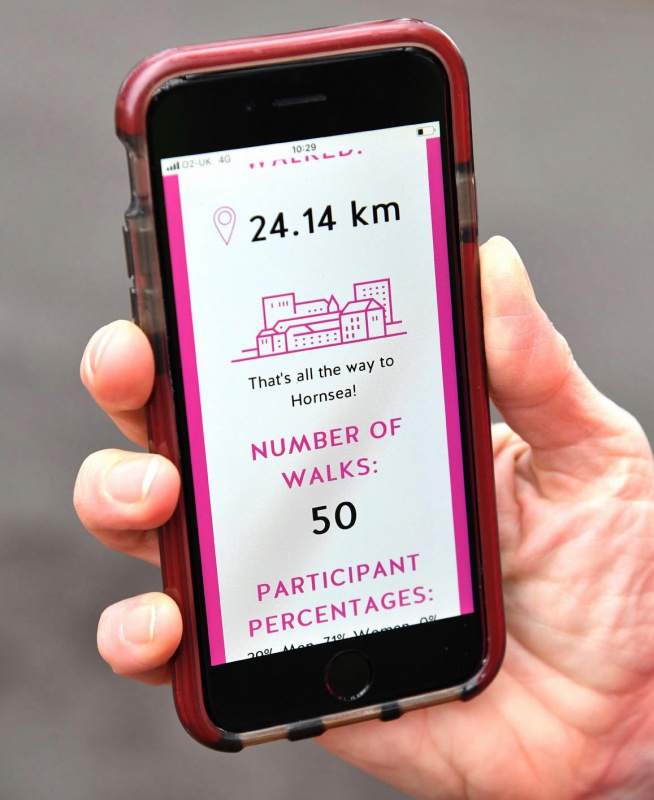 If you are interested in using the Walk Hull simply take your smartphone down to West Park today and start scanning the Walk Hull QR codes in any order and as many times as you'd like to see how far you can walk while helping the community reach new milestones ranging from within Hull all the way up to the moon!