Posted by Umber 20/12/2019
Our year in numbers
As 2019 draws to a close, we thought this would be the perfect time to reflect on our success and performance over the past year. It's safe to say it's been a busy one, and looking at the numbers we have to wonder...does Kevin ever log out of his emails? Does the team actually speak to each other in between all those slack messages and lines of code?
Here's a round-up of our year in numbers….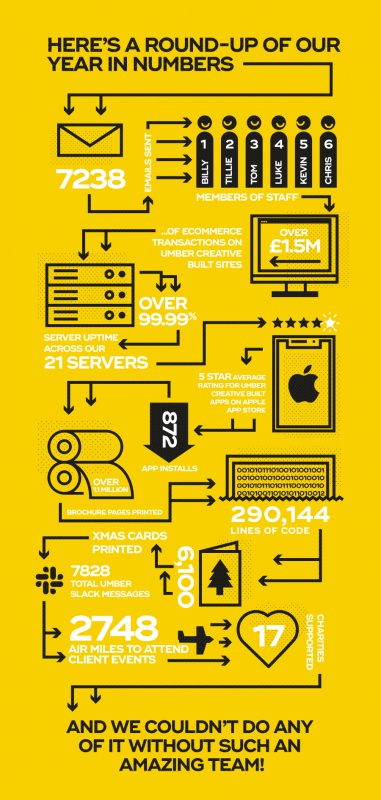 A busy digital team
As we work on more and more bespoke digital projects, our web team have consistently achieved fantastic results for our clients. They've written 290,144 lines of code, put several major new web projects live for the likes of Fitmums and Friends and Relate, and worked hard to ensure we had 99.99% server uptime across all 21 of our servers. Our apps also have an average 5* rating in the apple app store - well done guys!
Top-notch design
Our graphic designers continue to knock online and offline briefs out of the park. From caravan brochures to Christmas cards, we've kept those printing presses busy in 2019!
Great clients
We're really lucky to work with a fantastic bunch of clients and will always go above and beyond to deliver great customer service. We've literally travelled thousands of miles to support our clients at industry events this year, as well as helping out with the odd IT emergency in South Africa and spot of carpentry at a trade show!
Giving back
We love what we do here at Umber Towers, but it has to be said, we especially enjoy the projects we do for local charities and not-for-profit organisations. We've loved working closely with The Smile Foundation and For Entrepreneurs Only over the past year, along with the 16 other charities and local organisations we support.
And we couldn't do any of it without such an amazing team!
This year we've achieved a big milestone...for the first time in Umber history each team member has taken their holiday allocation before the end of the year! The team's time off is very much well-deserved and we're so proud of what everyone has achieved this year. Keep up the hard work guys, if 2019 is anything to go by, 2020 is going to be a cracker!
All that's left to say is we wish you, and your business, the very best over the festive period and into the New Year. Cheers!
We'll be closing the Umber doors this Christmas break from 20th December until 2nd January 2020.