Posted by Umber Creative 23/10/2019
'Tis the season to be prepared
With Black Friday just weeks away (and the 'pre Black Friday' sales even closer!) it's safe to say now's the time to prepare for the busy festive season. Whether you're an online retailer wanting to maximise Christmas sales or a local business wanting to delight your clients with a holiday gift, your life will be much easier over the coming weeks if you set the wheels in motion now.
So, to help you out, we've come up with a festive jobs checklist so you can get-ahead, meet those all-important print deadlines and ensure you don't miss out on any opportunities to share Christmas cheer with your customers.
Print
If you want to send your customers a Christmas card, an advent calendar, a 2020 planner, or you need some printed communication to promote your Black Friday sale, it's essential you build print deadlines into your schedule. November and December is a really busy time of year for printers, so the sooner your jobs are scheduled, the better.
Just to give you an idea, a Large Christmas card could have a production lead time of up to 2 weeks once the design has been signed-off.
Also, it's worth remembering, if you want to really wow your customers and send them something unique and personalised, your design team will need some time to create that great, show-stopping idea.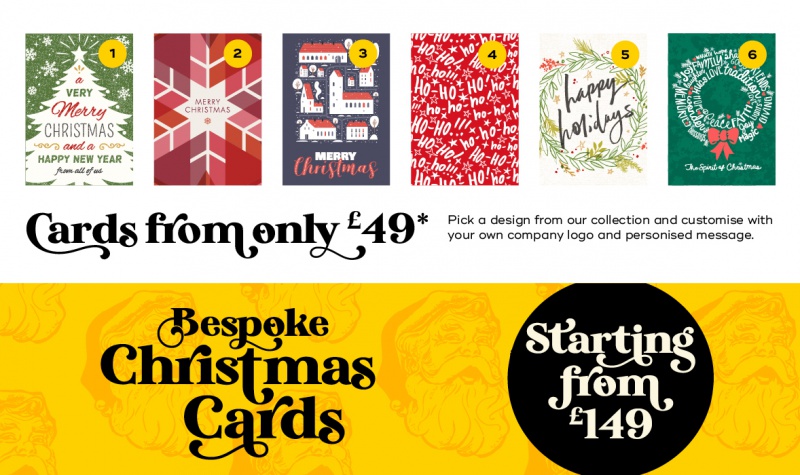 Digital
Whilst digital projects aren't subject to print deadlines, they arguably need to be completed sooner! A customer won't expect a card or gift to hit their desk or doormat until December, however they'll almost certainly expect to see your festive digital communication in the weeks leading up to the Christmas period.
This is particularly true for those in the retail sector, where Christmas basically starts before Halloween these days!
So what do you need to be thinking about?
Website updates. Does your website need updating with a more wintry look and feel? You need to think about the graphics, blog content and product photography you'll need to showcase your key products, promotions or even updating Christmas opening hours.

Email communication. Do you have a great Christmas or Black Friday offer? You'll obviously want to share this with your contacts, so get those emails prepped and scheduled now.

Social media. Just like your website, you may want to give your accounts a festive look and feel with new avatars and cover photos. You'll also need social media graphics to promote any special offers and festive messages over the Christmas period, too.

Then there's 2020…
It's easy to get caught up thinking about all the jobs you need to get done before Christmas, but you should also be thinking about what you'll need for the New Year, too.
Will you be launching a Boxing Day sale? Do you want your website to have a fresh look ready for the New Year? Do you want to send your customers an email telling them you're open again after the festive break? You should have all these jobs planned and signed off before you break up for Christmas, bearing in mind many printers and design agencies close down completely for at least a week before the New Year!
If you're not sure which promotional materials you need for the festive season yet, and don't even have your Christmas campaign finalised, don't worry. Our team is always available to help with your marketing plans and offer some creative inspiration!